Many Diseases are Preventable
Timely access to pathology screening is crucial for effective health outcomes. SmartHealth provides Pharmacists with the analytic tools needed to empower patients to take a proactive approach to their health care. Pharmacists can now order accredited pathology screening, and receive the clinical evidence and baseline measures needed to help their patients make better health decisions or refer them to a General Practitioner or relevant Allied Health Professional.
Empowered Patients Have Better Health Outcomes *
Evidence shows that informed and enabled patients not only have better health outcomes and better health engagement, but they also have lowered associated health costs and experience greater satisfaction.
Subscribe
* Powers T, Bendall D. Improving health outcomes through patient empowerment. J Hosp Mark Public Relations. 2003;15(1):45-59. Morgan S, Yoder L. A concept analysis of person-centered care. JHN. 2012;30(1):6-15
Step 1
Order private pathology screening for patients online
Step 2
Patients provide pathology samples at a local collection centre
Step 3
Receive and review patient's results, usually within 2 business days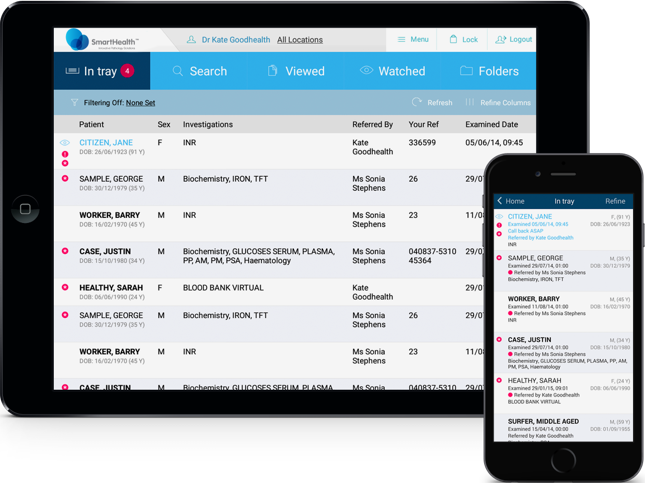 Pathology Made Easy
SmartHealth enables Pharmacists to order pathology screening crucial to effective health outcomes.
Sample Collection
SmartHealth Prepaid Pathology Requests are honoured at over 1,450 Sonic Healthcare Collection Centres throughout Australia.
Fast & Accurate Results
Clean design and intuitive navigation allows easy retrieval and interpretation of SmartHealth results, usually within 2 business days!
Medical Review & Support
Our Pharmacists benefit from access to online pathology support and all pathology results are reviewed by SmartHealth.